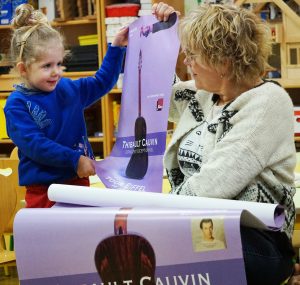 Vendredi 6 janvier, Thibault Cauvin, grand ami de Marguerite, la maman d'Elise en PS, vient faire un concert de guitare exceptionnel aux enfants.
Thibault est concertiste international, il joue de la guitare classique.
Il parcourt le monde depuis plus de quinze ans et a reçu de multiples prix internationaux dès le plus jeune âge. Ses disques sortent chez Sony Music.
Thibault démarre un nouveau tour de concerts, le Magic Tour, le 28 janvier à la Tour Eiffel!
Les enfants ont eu la chance de le recevoir en avant première avant sa nouvelle grande tournée! Quel honneur extraordinaire!
Amy: The children (and the team!) were blown away by Thibault's musical talent. The children watched in awe as Thibault played for us, saying that listening to Thibault play made them feel peaceful and « love ». We were so lucky to have such a talented artist perform for us! Thank you, Thibault Cauvin!