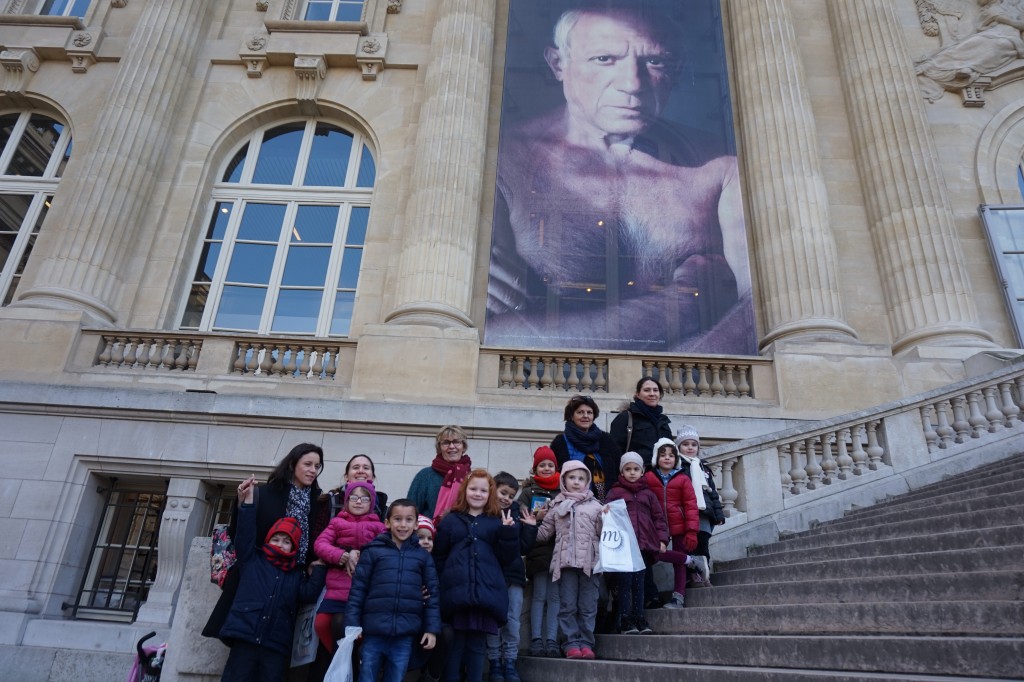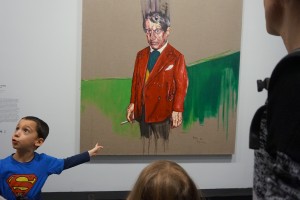 Mercredi 17 février, juste avant les vacances, Amy et moi avons donné rendez-vous en début d'après-midi aux enfants de GS et MS au pied du Grand Palais pour visiter, ensemble, l'exposition Picasso-Mania !
Forts de leurs connaissances considérables sur Picasso, les enfants ont adoré découvrir les œuvres des artistes contemporains qui ont été influencés par le grand Maître !
Tout d'abord, dans la première salle, quel plaisir de retrouver les dessins-hommages de leurs amis Niki de Saint Phalle et Jean Tinguely !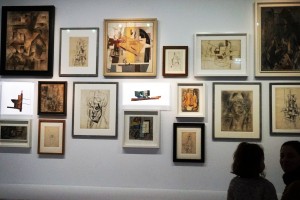 Et que c'était plaisant pour eux de reconnaître 'les œuvres de Picasso' peintes, exhibées et mises en lumière dans les œuvres d'Errὸ et bien d'autres !
La très grande sculpture bien réaliste de Picasso, en tee-shirt rayé, de Maurizio Cattelan a été plébiscitée par tous les enfants !
La relecture du Cubisme par David Hockney, fasciné par la liberté et l'extraordinaire inventivité de Picasso, – avec ici, son Arlequin, ses photocollages – ont donné moult idées et envies de créations aux enfants !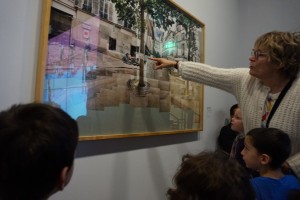 Et que dire des 'appropriations' des Demoiselles d'Avignon de Mike Bildo, Richard Pettibone, Audré Raffray ou Faith Ginggold ! Les enfants, très attachés à cette œuvre de Picasso, (malheureusement absente du Musée Picasso à Paris, puisqu'au Moma de New York), attendaient avec impatience de voir celles, immenses, de ces artistes ! Ils ont poussés des 'oh' et des 'ah' de satisfaction !
Les G.S ont démasqué 'La Demoiselle d'Avignon ' de Jeff Koons en reconnaissant sa fameuse 'patte' !
– Oui, c'est Jeff Koons, nous l'avions découvert au Centre Pompidou l'année dernière !
Les bidons de Romuald Hazoumé, transformés en masques africains, ont enchantés nos artistes qui se régalent déjà de reprendre l'idée à leur compte et de la développer avec des objets hétéroclites !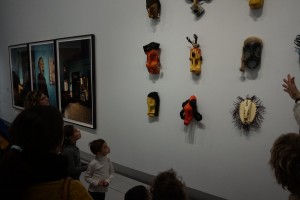 Guernica a beaucoup marqué les enfants ! Ils l'ont découvert sur les catalogues et s'y sont fortement intéressés (le tableau est à Madrid). Au Grand Palais, une salle lui était consacrée, autour de documents et d'une grande photo de l'original, devenue un symbole universel. Dans cette salle, l'œuvre gigantesque de Adel Abdessemed, Who's Afraid of the Big Bad Wolf, un amas inimaginable et désolant d'animaux naturalisés, leur a permis de poser beaucoup de questions sur la cruauté des humains vis-à-vis des animaux. Cette réalité, l'extinction des animaux, véritable guerre menée par les humains contre ces êtres vivants, les révolte.
Les enfants ont encore aimé se replonger dans les portraits Pop Art de Warhol, Errὸ et Lichtenstein 'à la façon de Picasso', source de variations inépuisable !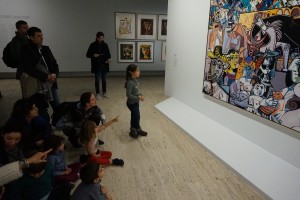 « Picasso était l'artiste que j'admirais le plus, toutes périodes confondues, pour son incroyable prolixité ! » disait Warhol.
– Nous allons peindre des portraits déstructurés et Pop Art, ont décidé les enfants devant les toiles.
Clou du spectacle : revoir quelques œuvres de Picasso au faîte de sa gloire dans les années 70, avec les Mousquetaires mais particulièrement, la « pisseuse » qui les a fait mourir de rire !